What subjects do you teach?
I currently teach level 2 and 3 Royal Horticultural Society (RHS) courses at Merrist Wood, although I have taught a much wider range of subjects and age-groups.
Currently I also teach level 4–6 plant physiology at Royal Botanic Gardens Kew, and I am also the dissertations tutor for all students on the Kew Diploma.
As an RHS Professional associate, I work as an examiner for RHS Qualifications at all levels and have taught soil science and examined students on the RHS Level 3 and 4 Diploma at RHS Garden at Wisley.
How many years have you been teaching?
Over 35 years, so some might say for too long!
I worked full-time for some years when I managed the National Diploma in Nursery Practice and Garden Centre Management programme, but since then I have mainly worked here at Merrist Wood in a part-time capacity as I have several other work commitments, most of which are also related to horticultural and science-based education.
What do you enjoy about teaching adults?
I enjoy helping people who have a genuine passion for plants to realise their potential, seeing them gain confidence and apply their new-found knowledge and skills, particularly when they successfully change or further their career and realise their dreams!
What got you into horticulture?
I have always been interested in the land-based industries as I grew up on our family arable and livestock farms in Nottinghamshire and Lincolnshire.
I studied Agricultural Botany at Reading University then extended this BSc to incorporate a Crop Production and Management option.
This led to opportunities to work in plant biochemistry research at the Jodrell laboratory, RBG Kew, a scholarship to work in plant breeding the French national agricultural crop research institute (INRA), and research work for Monsanto agrochemicals.
Following periods working in both commercial and retail horticultural sales and advisory roles, my first experience of teaching land-based skills was to school-leavers on the YTS programme at Sparsholt College, which in turn led to what was originally meant to be a one-year teaching contract at Merrist Wood College in 1987… little did I know I'd still be there 34 years later!
What other passions do you have?
Gardening for myself and others and working on my allotment. I instigated the set-up of our village allotments ten years ago; this allows me to still explore my passion for plants whilst keeping fit at the same time !
My favourite and 'best' subjects at school were art, drama, and music as well as the sciences, and whilst horticulture conveniently combines art and science, teaching certainly incorporates some drama, including a certain amount of ad lib at times!
I became a single mum to my three girls whilst they were still very young. That's my main reason for only working part time at the college. I am proud that I managed to bring them up on my own whilst still working and that they are now all (nearly) independent.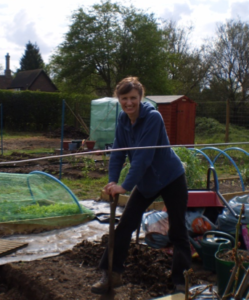 Why should someone join your classes?
I am passionate about plants and enjoy passing on my knowledge and sharing my skills with students at all levels, from beginner to professional, in a manner that inspires them, helping them to achieve their potential and explore the possibilities that horticulture and related sciences have to offer.