Portrait Drawing and Painting
Would you like to learn about the work of celebrated portrait artists and explore the techniques and materials they used?
During the first part of the course, you will learn fundamental drawing and painting skills referencing specific historical and contemporary portrait artists, which will give you the knowledge to create and experiment with your own creativity. Throughout the course the tutor will introduce you to the work of a variety of artists who have used the various materials and techniques that you'll have the opportunity to explore and experiment with.
This mixed ability workshop is a great opportunity to learn new skills if you are a beginner, or further develop your portrait drawing and painting skills under the guidance of our expert tutor.
Your tutor will introduce you to the work of a variety of portrait artists, both traditional and contemporary, these examples will inspire and show the diverse possibilities that can be achieved.
You will learn about the essential materials needed and how to use them.
You will experiment to produce a variety of drawing and paint effects that will enable you to develop your creative skills.
We will look at techniques that enable you to interpret proportion, textures, light, volume, composition and likeness.
You will learn about composition, we'll consider elements that make a successful and pleasing Portrait composition
The course will give you:
practical exercises that will develop your confidence
tutor demonstrations to explore techniques and effects
individual discussion and guidance from tutor
group discussion to evaluate work and progress
learning through fun experimentation
analysis of Artists work
For the first lesson please bring along a soft pencil (2B) and a putty rubber. The tutor will advise what other materials you will need throughout the course, but these may include:
watercolour and/or acrylic paints (tubes of paint or paintbox)
watercolour paper/cartridge paper, recommended weight to be at least 200GSM
Selection of brushes in a variety of sizes (at least three brushes)
charcoal
pastels/coloured Pencils
any other materials you would like to use
Other basic materials will also be supplied.
Please bring any refreshments and wear old clothing or an apron.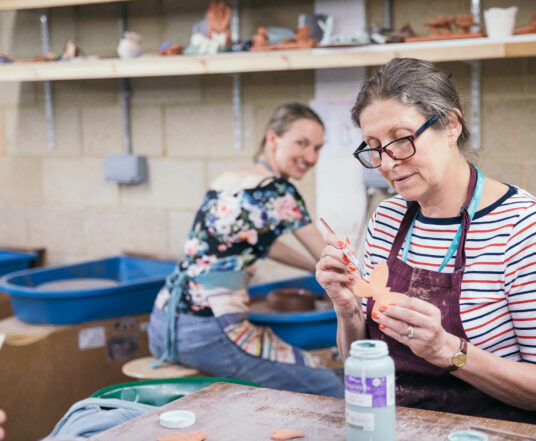 Meet the tutors
We want our learners to feel welcome, safe and at ease when attending our classes, especially if this is your first time attending an adult education class or if you're coming back to education after a break.
If you're interested in one of courses, meet our tutors first! You'll see they have similar passions and interests and, most importantly, the right qualifications to help you make the most of your time and money.