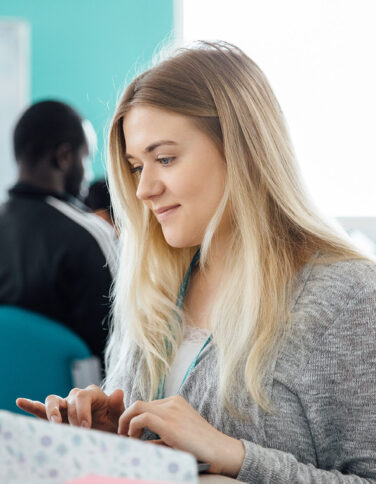 Access to HE: Psychology Level 3 Diploma
An Access course is for mature students (19+) who have been out of full-time education for one or more years and would like to go on to higher education but do not have the formal qualifications needed.
On the Access to HE: Psychology Level 3 Diploma pathway, you will study psychology, human biology and sociology.
You will be introduced to some of the theories regarding human behaviour and experience and will explore some of the explanations psychologists have to understand humans and their interactions with the world. You will also conduct an in-depth investigation of human behaviour.
On successful completion of this course you will be awarded the following qualification certificate: Access to HE Diploma (Health and Social Care).
Students from this pathway have progressed on to higher education to study psychology, deaf studies, counselling, occupational therapy, human services, sociology, religion and theology.
Funding available:
19+ Advanced Learner Loan: If you are aged 19 or over, and you want to study an Access to Higher Education programme, you may be eligible to apply for an Advanced Learner Loan to cover your tuition fees.
Student Finance England will write off any outstanding Advanced Learner Loan balances you owe for an Access to HE programme, if you go on to complete a higher education/university level course. This means you do not have to repay it. If you don't go on to study a higher education/university level course, you won't need to start paying back the loan until you earn over £25,725 per year. Contact us for more details.
Level 3 Entitlement fee remission: If you are aged 19–23 and this will be your first eligible, full Level 3 course, then you may be able to do this course for free.
Initially, you will learn about the history of psychology, the main perspectives, and the debates in psychology.
Topics in cognitive, developmental and social psychology will then be covered, as well as individual differences.
Finally the subject will focus on research methods where you will undertake an in-depth investigation of human behaviour and experience.
You will also study human biology and sociology as supporting subjects.
As well as developing subject knowledge, you will improve your communication, personal and study skills through a common core programme that also provides one-to-one tutorial support.
Teaching will take the form of lectures, discussions, group work and self-directed learning. Credits are gained for a variety of tasks such as quizzes, case studies, essays, research projects, oral presentations and timed assessments.
You will be assigned a personal tutor who will agree performance targets with you and support you to achieve these targets. Your tutor is also the first port of call for any pastoral issues.
Our committed team of staff and careers specialists will also guide and support you with your higher education choices and applications. Almost all our Access to HE students' progress to higher education.
You will benefit from socialising in an educational environment and working collaboratively on projects. All of this is excellent preparation for higher education.
Assessment on this programme is through a combination of exams (approximately 30%) and coursework (approximately 70%).
Assessments are a mixture of:
essays
structured questions
projects
presentations
examinations
To be eligible for a place on this programme, you must have a GCSE at grade 4 (C) or above in English and maths, or a Functional Skills Level 2 qualification.
Please note: If you wish to go on to study a medicine degree, most universities require five GCSEs, including English, maths, and science at grades 7–9 (A–A* equivalent).
Applicants are advised to contact their university of choice to confirm the criteria. Some degrees require that you have some relevant paid or voluntary work experience, and this will also be checked at interview. Applicants must be aged over 19 and have been out of full-time education for a year.
You will have a numeracy and literacy assessment to check your suitability to study at Level 3 and may have the opportunity to re-take either a maths or English GCSE alongside this course.
If you don't meet the entry criteria, don't worry! We have a range of one-year, Pre-Access courses available to help you get started.
There is also a wide range of support available at the college for students, including financial support.